Author Archives: vlm
---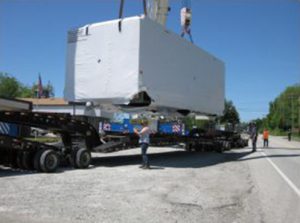 TUI was hired to handle the logistics of a condenser unit transport after another logistics company failed to meet its commitments. A manufacturing company awarded a hauling contract for two condenser units. It was revealed the logistics company was insufficiently experienced to handle the haul:
An 80 ton trailer was sent to carry a 100 ton condenser
The logistics company did not order the permits in time and tried to transport without proper permits
The truck was in an accident 14 miles from its origin
The police inspected the truck, fined the driver, and did not allow the unit to be transported any further
The delivery was late and the manufacturing company faced liquidated damages
Our Condenser Unit Transport Solution
The manufacturing company contracted TUI to handle the logistics of the new haul to include:
Cranes to transfer the unit, from overloaded combination trailer to a properly equipped 125 ton, 19 axle rig
The delivery of unit back to manufacturing company for repair
The redelivery of the unit to final destination
Photos of the condenser unit transport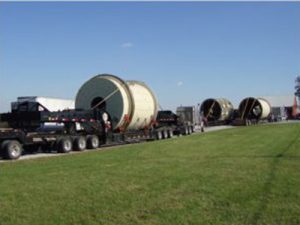 This Multi-load, Interstate Transport from Pennsylvania to Baltimore transport was very problematic with many challenges:
Aerial wires, trees, bridges/overpasses
Construction sites with road width restriction
Traffic control plans
State Permit approval process
Route surveys, utilized one-way ramps
Layover locations en route
Steep grades and declines
Transported three units at the same time
The state of Maryland required the loads be transported at night; TUI illuminated all loads.
For this task, we employed our support team:
A certified utility contractor to lift traffic lights, road signage, & electrical wires.
Pilot cars for detecting aerial clearances.
Traffic control with police escorts.
There were overpasses in the route with only 3″ of vertical clearance to spare. The trailers needed to be dropped nearly to the ground, and the utility contractor was needed to watch for clearance.
TUI delivered all six (6) cylinders without incident and according to schedule.
Multi-load, Interstate Transport Project Details:
Cylinder Dimensions: 18'5″ L x 16'2″ Dia. (Permit Height: 17′ 2″)
Cylinder Weights: 2 @ 132,000 lbs.; GVW 252,000 lbs.
Cylinder Weights: 2 @ 132,000 lbs.; GVW 252,000 lbs.
Distance: 180 direct miles (325 permit miles)
Multi-load, Interstate Transport Project Photos: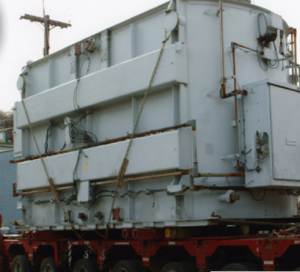 A Local Utility Company had a need to rig and transport one transformer from one substation to another substation within the city limits of Pittsburgh, PA. The challenging haul included jacking and sliding the transformer seven times from truck to rail to truck, and then maneuvering the load under a railroad bridge by sliding the load on rails and then back to truck.
Transport Unlimited assumed responsibility for the entire process associated with the difficult haul, and directed every detail including: town meetings, security and emergency medical personnel, certified wire lifters, route surveys, parking spaces and road improvements.
Pittsburgh Transformer Rig & Transport Project Details
Loaded Height: 18'H
Transformer Weight: 300,000 lbs.
Gross Weight: 555,000 lbs.